Lanzarote is a popular holiday destination with a tropical climate, lots of gorgeous beaches and sunshine all year round, but the following is one of the small prices we have to pay for living in paradise (and don't get me wrong, it is worth paying!).
We have to put up with holidaymakers walking around in nothing more than their swimming trunks or bikinis in the street, into the shops and even eating at restaurants & cafés. 
Personally, I don't mind as long as they wear next to nothing on the beach or even walking along the beach front Avenida like that, but I draw the line when I'm sitting in a restaurant or café when a fat old man (or even a skinny young man or woman!) sits down at the table next to me in nothing more than his speedos while I'm trying to eat. Not only is this extremely inconsiderate and disrespectful to other people, but it's also horribly unhygienic, sitting with their bare, sweaty flesh, covered in sun cream, on those chairs!
Having complained at quite a few restaurants where this has happened, I simply get told by staff that "the boss won't allow us to do that" or, speaking to the boss him/herself, "sorry, but we can't do that". Unfortunately, most restaurants and smaller shops here really can't afford to lose business by kicking out people who are not dressed in a decent way, so other diners like myself just have to put up with it, move table (if there is another one free), or leave.
Yesterday I found that our Lidl in Puerto del Carmen had put up this sign though.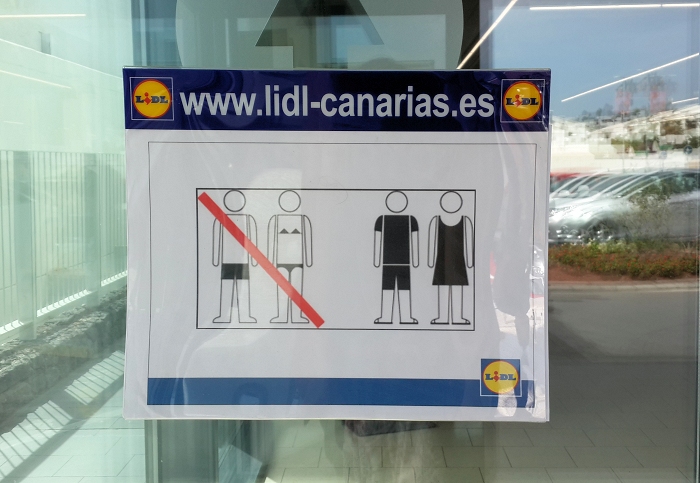 Thanks Lidl! Absolutely love it! Even though it's very unlikely, I can only hope that at least the bigger supermarketst and restaurants here are all going to do something similar soon….