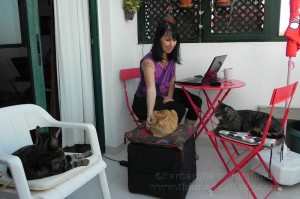 My name is Barbarella a.k.a. The Mad Cat Lady.  I live in sunny Lanzarote with my three cats Lugosi,  Spider and Ruby Akasha.
I decided to create this separate blog – containing my writings and ramblings about things I am interested in and passionate about –  since all I really post on my personal website  The Mad Cat Lady are Cat Photos and Videos.
This blog is dedicated exclusively to my writing, including cat related stuff, along with the occasional photo.
So… I welcome you, enjoy reading (click to go to blog), comment if you have something to say, and do share if you like my posts.