About themadcatlady
Author Archive | themadcatlady
Following my disappointing post about the Cannapharmacia closing down for good in July last year, a new cannabis association has popped up in its place, and in the same location, run by new people!
The new club is called Klinic Cannabis Club, and apart from a wide variety of grass and hash, they also have medicinal products such as cannabis oil, creams, balms, vape liquid and tinctures, plus they sell vaporisers and bongs and a good selection of paraphernalia.
Since taking over the premises from the old Cannapharmacia, they have completely remodeled and redesigned the interior decor, which is very warm, ambient and inviting, and apart from a bar and plenty of comfy seating on one side of the club, there is a pool table and video games in the next room with some amazing space weed / Star Wars murals on the walls.
The club has made a big effort to be 21st century friendly and offer the latest technology to their members, with a swipe card that you "load" with credit at the reception. This is used not only to swipe you in so the system knows who you are, but also to buy your products with once inside the club.
They also have an app called SmokApp available for Android and iPhone, with which you can see all your own member info, and check latest news, what products they have in, and events and workshops that the association runs, amongst many other things.
New cannabis clubs appear to be popping up everywhere in Lanzarote, with a few new ones here in Puerto del Carmen as well, but unlike Klinic Cannabis Club, they do not offer up to 20% discount to their medical users. You do need a letter from you doctor though stating whatever condition/illness you have to prove that you are a medical cannabis user to qualify for this discount.
Visit the Klinic Cannabis Club website for more info

237 views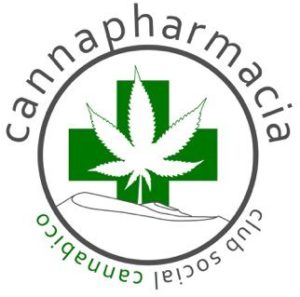 I have been a medical cannabis user since 2013, ever since I became aware that there was a cannabis association called "Cannapharmacia" in the nearby town of Playa Honda. Before that, I would never even have considered using cannabis to treat my chronic fibromyalgia and rheumatoid arthritis pain, because I would have had to buy it on the street, meaning you never know what you get and also because it's expensive and dealers are unreliable.
The wonderful thing about Cannapharmacia is that, as a member (which costs only €20 a year), I can simply go there 7 days a week, get buzzed into the club by the girl at reception, and buy my cannabis products inside. At first I bought the actual weed which, because I don't smoke, is not the best option for me, but I found that it helps my night time pains so much where ordinary codeine-based painkillers feel just like eating candy, and I would put up with the smoke scratching down my windpipe every night before going to bed. For a short while they had the rather expensive cannabis oil which also did the trick really well, but they stopped selling that.
Then someone started making capsules filled with 15mg, 25mg or 50mg of cannabis, and I found the 25mg ones were the most effective painkillers / sleeping aids out of the lot. However, these are relatively expensive, and in the end I decided to go for the cannabis cookies, which are not only cheap (€4 for 5 biscuits, which includes my 20% discount as a medical user), but eating one 2 hours before bedtime, would send me to sleep without any pain or spasm and tightness in my muscles.
The sad thing is that since last week, Cannapharmacia is CLOSED. 
This is thanks to 3 idiots who decided to pose as owners of the association and tried to change the lock to the front door, and then continued to wreck the interior of the club and assault some of the staff. I do not have all the exact details of this incident, but from my own point of view, this means I am back to square one which I was at before I found Cannapharmacia.
From what I know, there are at least 700 members who are medicinal users like myself who have come to depend on the pills, the cookies or the weed to treat various conditions from cancer to multiple sclerosis and chronic pain, as well as other autoimmune illnesses like lupus erythematosus.
And we have nowhere to go now for our medication.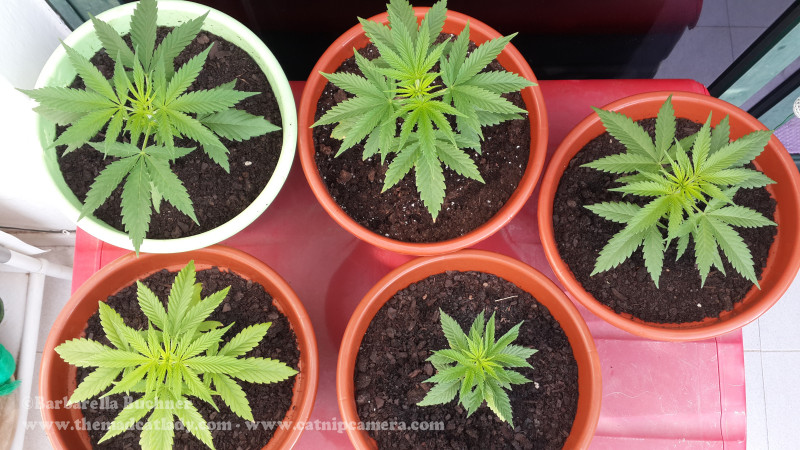 Personally, I am thinking of growing my own plants on my balcony again, which I did a couple of years ago with kinda mixed results and a rather small yield. However, there's no point doing this during our tropical summer heat, because it'll be too hot for the plants, plus there are too many bugs around. So, right now, this is not an option.
I am hoping that Cannapharmacia can work out a secure system of how to protect its members and staff from b*stards like this, and also hope that the police will be prosecuting these individuals in the manner that they deserve.
As for now, I am going to have to buy some weed from a local cannabis club here in my own town of Puerto del Carmen. Sadly, they do not have any pills or biscuits, and the oil they have costs €100. And the price of their weed is twice as much as at Cannapharmacia! However, when you are desperate for pain relief, you just have to find the money for it somewhere…
Below is a video Cannapharmacia posted on their Facebook Page depicting part of the incident (in Spanish).

1,203 views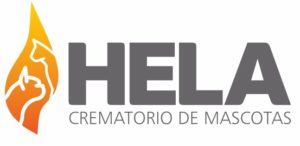 Pet owners in Lanzarote who lost a beloved pet, have had until now no option to give their deceased pet a decent and dignified send-off. If your pet died at the vets or was found dead in the road, it will be sent to the municipal animal crematorium in Arrecife and chucked in with all the other animals, including roadkill and leftover carcasses from slaughter houses. To a loving pet owner, this is very non-personal and quite horrible really. If you have a garden, then sometimes burial is possible, but many of us live in apartments, and some of us go and find some secluded spot in the country to do a discrete burial. Mind you, both of the latter are illegal.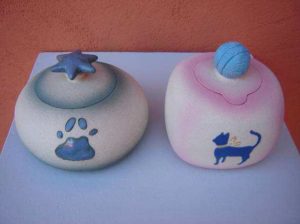 But someone has been listening to the many voices of pet owners here, and we now finally have a crematorium for our furbabies.
Hela Pet Crematorium is in Arrecife, and their cremation service (based on a 5kg animal), including one of their basic urns, costs around €75, so is very affordable to most people.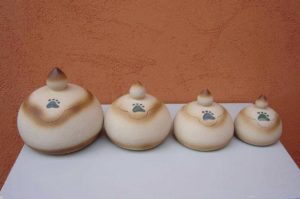 I know this is quite a sad subject, but an important one too. I for one, would love to be able to make my kitties' passing as loving and luxurious as all the things that I have given them in life.
Having two 18 year old tabby boys makes me aware every day that their clocks are ticking and we don't have that much time left together, and I am glad that when the time comes, I now have the option to see them off to the Rainbow Bridge with the dignity the deserve…

591 views
I wrote a post on Canna-Pet's natural cannabinoids back in September last year and how they have helped my boy Spider, and thought I would write a quick update on how he is doing now.
Spider has been on Canna-Pet for about a year now, and the adenocarcinoma that my vet removed from his ear a year ago has shown no signs whatsoever of growing back, even though she told me that it "may be back in a year or so".  His kidney values have also improved, which is quite a miracle in a cat that has been in kidney failure for the last two years! This is surely in part due to Canna-Pet, but also helped by a supplement called Renafood which I give him once a day.
Apart from that, Spider's fur has become extremely soft, he is more cuddly and responsive/vocal than ever, and his loud crying in the middle of the night only happens occasionally now. He has also become more active again – behaving like a much younger cat!  See this video of him jumping after his ping pong ball. 🙂
All in all, I am extremely pleased with these developments, and would recommend Canna-Pet to anyone who has tried just about anything, but nothing has helped, for their cats or dogs with cancer, epilepsy, diabetes, digestive tract problems, allergies and skin conditions, to name just a few.
Click Here to check out their website for more info. 

1,194 views
I recently received a promotional sample of the Tabcat Cat Tracker. If you have ever struggled to find your cat inside your house or around your garden or nearby streets, especially when you need to take them to the vet (they always "just know"!), then this may be for you.
The package I received consisted of two homing tags, a couple of splash proof covers, and the handheld tracking unit. Registering a tag is extremely easy, and once you have attached the tag to your cat's collar, you can start tracking your kitty!
The homing tag weighs just 6 grams and is small enough not to bother your cat in its day to day activities.  It has a range of up 122 meters (400 feet), but if there are walls and doors between you and the cat, this will be significantly less. Tracking one of my cats was easily achieved by following the beeps and the lights on the handheld unit, which increase in pitch and turn from red via amber to green respectively – green meaning that you have found your cat. A little beeping sound will also emit from the tag on the cat's collar, which can be used to teach your cat to return to you once you have located him/her with the Tabcat tracker.
My cats are indoor only, but they do go out for walks in our pedestrian only alley under my supervision twice a day. They don't wear collars, so for testing purposes I put on one of their many colourful cravats (see picture below) and attached the tag to that.
Inside our apartment, the tracker works really well. So when your cat hides away because of a forthcoming trip to the dreaded vets, or after being scared by fireworks, you will easily be able to find where he/she is hiding. It works through walls, and probably upstairs/downstairs too, but I was not able to test the latter because our apartment is on one floor only.
As soon as I opened the front door, my boy Spider escaped and ran down the stairs into the alley. Using the handheld unit I was easily able to track him down, hidden in a nearby alcove, where I would not have seen him because he was obscured by foliage. However, another test revealed that the tracker will not penetrate more than one thick garden wall, and when my ginger girl Ruby was in the alley and behind two walls, the handheld unit did not pick up her signal until I was clear of one of those walls.
So here is my opinion of the pros and cons of the Tabcat Cat Tracker:
PROs

Lightweight and small enough not to bother your cat.
Good range, works through at least one thick wall and through doors.
Possibility of training your cat to return to you when the beep on the cat's tag is activated.
Great for apartments or small upstairs/downstairs houses, and to find your cat in the vicinity of your garden and nearby streets.
Great to find your indoor cat – especially when he/she has escaped outside!
CONs
May not work in large houses, or gardens bigger than 100 meters square if the cat roams further than that.
If the cat loses its collar, it will lose the tag with it.
Does not work through more than one thick wall.
Not suitable if your cat has a huge territory outdoors.
** Click here to find out more about the Tabcat Cat Tracker on their website **

612 views
Last week I met up to do an interview with Freddy of Freddy's Cathouse in Playa Blanca, which is a small town in the west of our island of Lanzarote. His charity and him are 100% dedicated to helping improve the quality of life of approx. 130-140 feral cats, with 26 feeding stations under his care.
Read the full story about this amazing guy and his work in my Catster Article.

352 views
I decided to have a total change in style and colour!
My original idea was fuchsia coloured hair with purple at the roots, but sadly, my hair has way too much black dye build up, and for the aforementioned colours it needs to be bleached to almost white, and my hair doesn't go any lighter than orange… so I had to just stick with red!
On the bright side (pardon the pun, hehe!), with this colour I can at least wear just about anything that I already have – I have a lot of red clothes. With fuchsia colour hair I would probably have had to buy myself a whole new wardrobe to match! 😉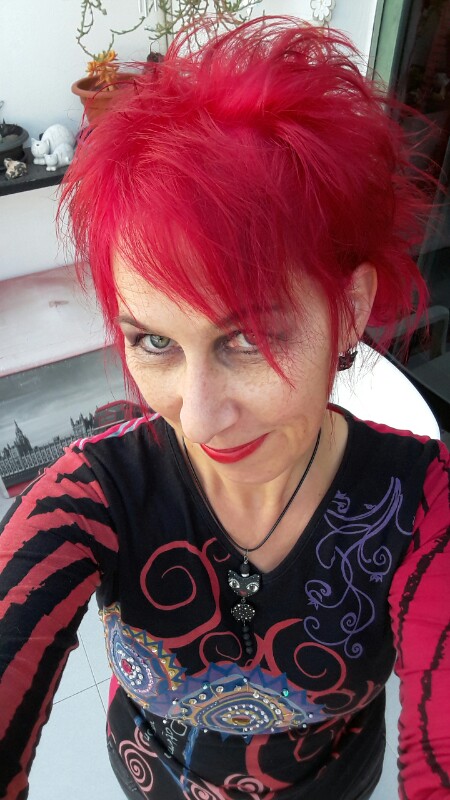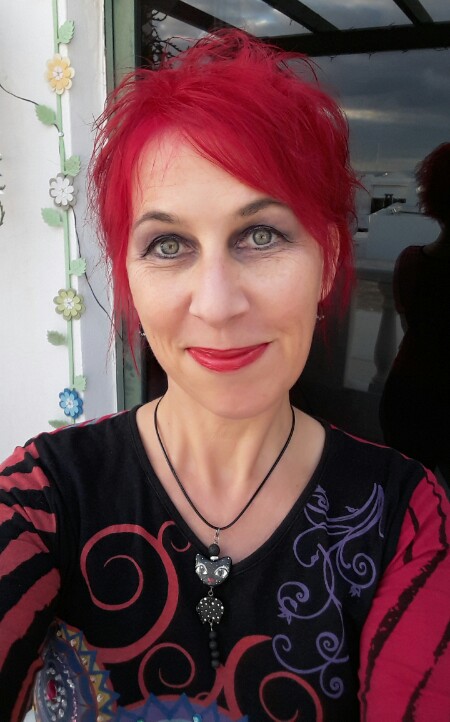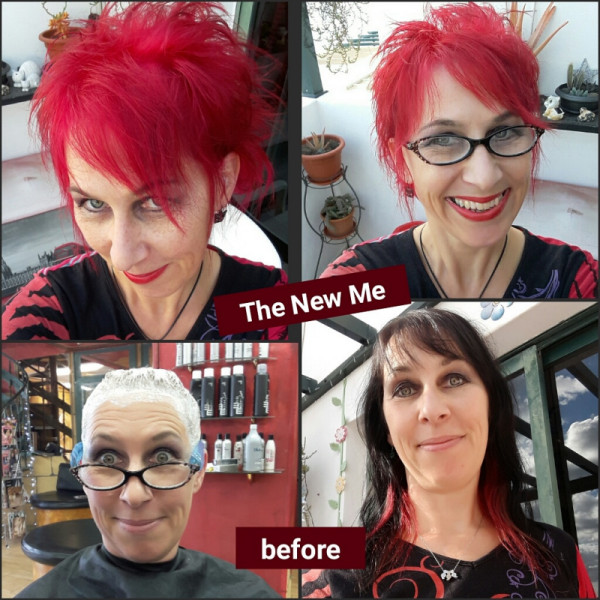 344 views
Never miss a Post!
Checking...
Ouch! There was a server error.
Retry »
Sending message...
Contact Me
Please leave your message, comments, questions and beer donations in the form below.
Cat-egories